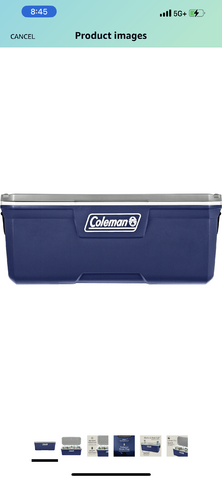 cooler
Introducing our Cooler 100+, the ultimate solution for keeping your beverages chilled during ylur gthering. With an impressive capacity of 100+ cans, this cooler is designed to cater to large groups and ensure everyone stays hydrated and satisfied.
Crafted with durability in mind, the Cooler 100+ is made from rugged materials, Its sturdy construction guarantees long-lasting performance, making it the perfect companion for all your event.
Featuring advanced insulation technology, this cooler provides exceptional ice retention, keeping your drinks cold for extended periods. Say goodbye to warm beverages and hello to refreshing sips throughout the day.
The Cooler 100+ is equipped with convenient features to enhance your outdoor experience. The spacious interior allows easy organization and access to your favorite drinks, while the leak-resistant lid ensures a mess-free environment. The integrated drain plug simplifies the cleaning process, making it hassle-free and time-saving.
Transporting this cooler is a breeze, thanks to its ergonomic handles and lightweight design.With its sleek and modern design, this cooler not only performs exceptionally but also adds a touch of style to your setup.
Rent the Cooler 100+ today and elevate your outdoor gatherings to a whole new level. With its impressive capacity, durability, and advanced features, you can be confident that your beverages will stay chilled and ready to enjoy, no matter the occasion.