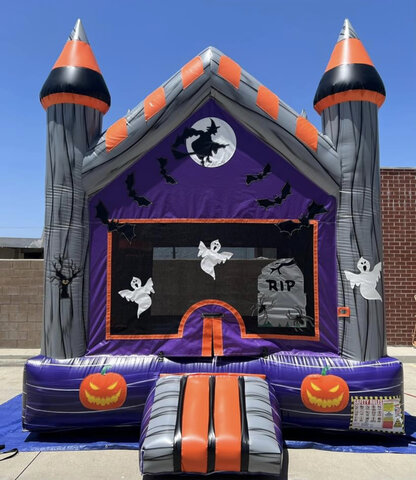 Halloween Bounce House
Get ready to bounce into the spooky season with our Halloween Bounce House! This inflatable masterpiece is the perfect addition to any Halloween party or event.
Designed with vibrant colors and eye-catching Halloween-themed graphics, this bounce house will instantly transform any space into a thrilling and fun-filled Halloween wonderland.
Made with high-quality materials, our Halloween Bounce House guarantees a safe and enjoyable experience for kids and adults of all ages. With its sturdy construction and reinforced stitching, it can withstand hours of bouncing and play without losing its shape or integrity.
Featuring a spacious jumping area, children can let their imaginations run wild as they bounce, leap, and play with their friends. The mesh walls ensure proper ventilation while providing a clear view for parents to keep an eye on their little ones.
What sets our Halloween Bounce House apart is its attention to detail. From the creepy crawlies to the friendly ghosts, every element of this bounce house is meticulously designed to create a thrilling Halloween atmosphere. It will surely be the highlight of any Halloween-themed party or event.
Setting up the Halloween Bounce House is a breeze so we will have it up and ready for use in no time. It comes with a powerful electric blower that inflates the bounce house in minutes, allowing kids to start bouncing and having fun in no time.
Whether you are hosting a neighborhood Halloween bash, a school event, or a haunted house party, our Halloween Bounce House is an absolute must-have. It will provide endless hours of entertainment and laughter, creating memories that will last a lifetime. So, don't miss out on the opportunity to make your Halloween celebration truly unforgettable with our amazing Halloween Bounce House!